Modern kitchen designs are very affordable in Malaysia. Currently, the most popular colour schemes for modern kitchen designs in Malaysia are Wood & White, Black & White and Grey. The last 2 combinations may give you a more modern look. Here are 20 of my favourite modern kitchen designs and cabinets.
White and grey combination kitchen cabinets with dark wood flooring. The only expensive part of this design is the marble wall tiles. It has a bit of European classic and vintage look. Personally, I believe you don't need the high ceiling for this design.
Grey kitchen cabinet with marble top. Suitable for compact space with high ceilings. The tall wall shelves and the custom-made high cabinet makes the kitchen looks bigger and more stunning. The shiny chrome bar chairs added some class to the look.
Photo from Architectural Digest by Richard Powers
Beautiful dark wood flooring, wood cabinets and bar stools paired with a beautiful white marble top.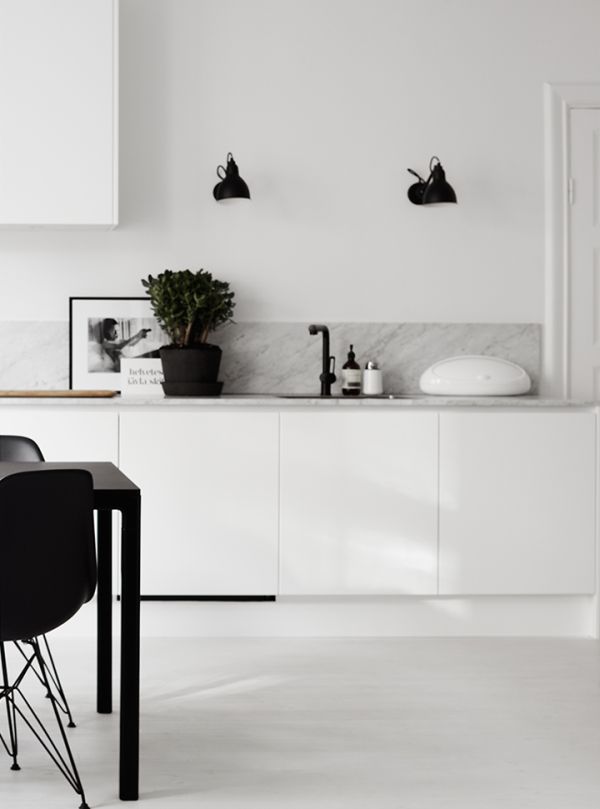 Photo from the design chaser
Beautiful white and black combination. This design uses white and light grey as main colour and sprinkle black colour as the popper. The cabinets are white but the floor is light grey. Simple, affordable and beautiful.
Photo from pinterest
Want more black and less white. Sure. This modern design uses white marble top, black cabinets with very bright white LED light.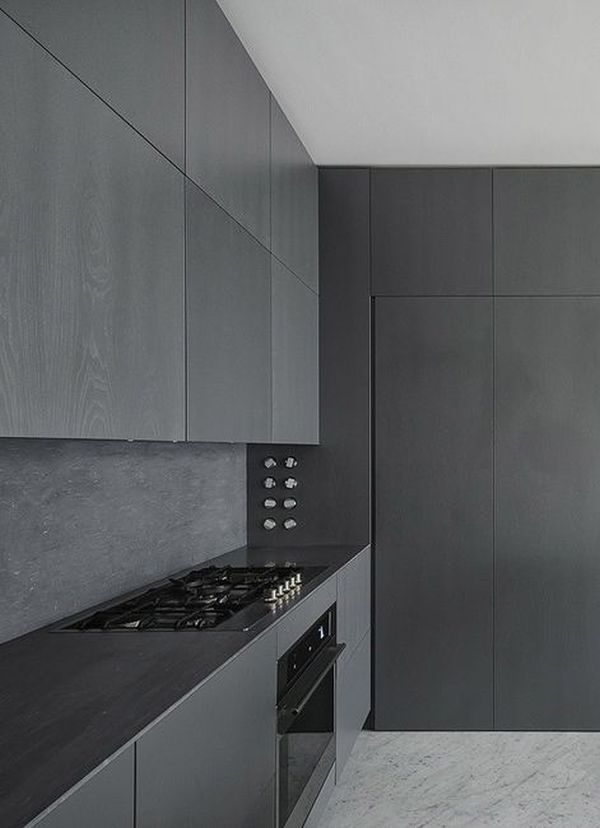 Photo from homedit
Love grey? Why not do any all grey modern kitchen at your home. Grey wooden cabinets with no handles are used in this design. Pair it with a beautiful light grey marble flooring and you have yourself a dream place to cook.
Photo from desire to inspire
Another beautiful design composition white grey cabinets and white top. Affordable and gorgeous.
Photo from archilovers
Might not be obvious. The black colour wall behind the kitchen island are actually beautiful black built-in cabinets with ovens. Simple and elegant dry kitchen.
Photo from pinterest
All white cabinets with grey tile flooring. Black is sprinkled across the kitchen to make it look more interesting.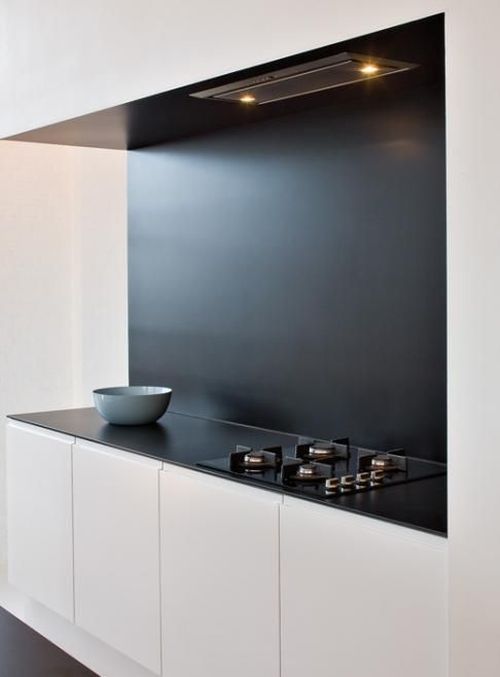 Photo from pinterest
Another beautiful combination of white cabinet, black top and matte black wall.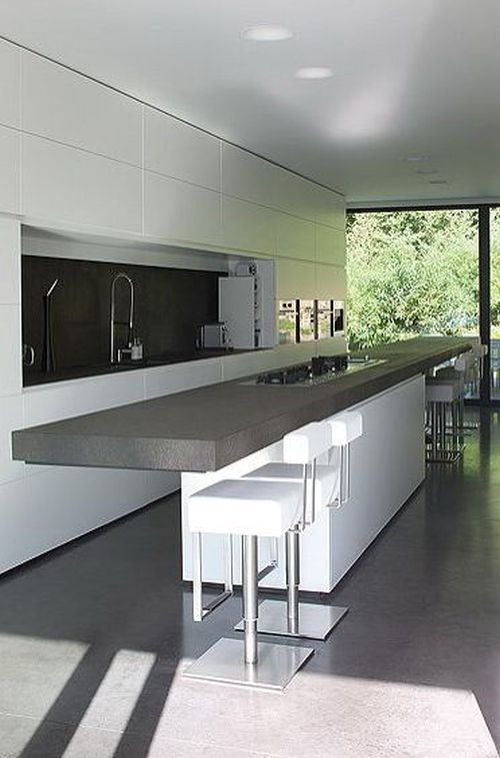 Photo from pinterest
Similar combination with a thick grey top for the island.
Photo from clem around the corner
Another kitchen combination with black cabinets. However, wood is the partner.
Photo from pinterest
Mostly Black but beautiful mix with the grey marble flooring.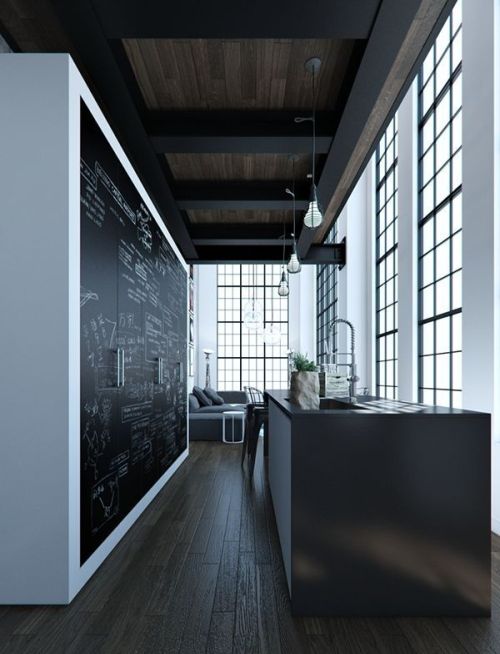 Photo from decofacil
Built-in cabinets with a beautiful and long island. The door of the built-in cabinet is painted with blackboard paint.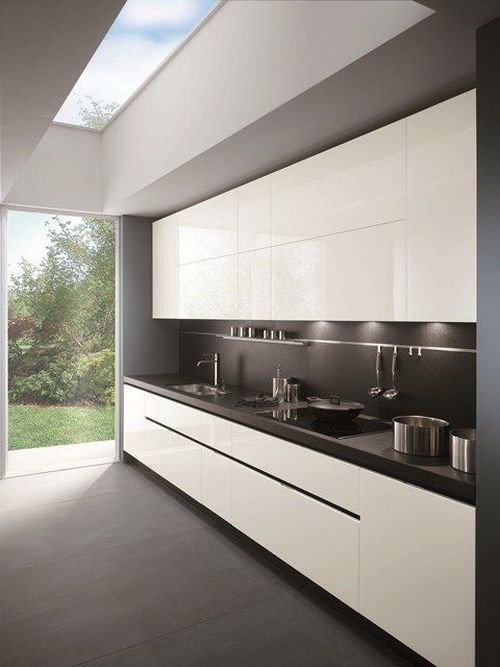 Photo from decofacil
Glossy white cabinets with black top and wall. Clean and elegant!
Photo from pinterest
Great visual separation using white wall shelves, bowls and plate with the base wooden cabinets. Black items are used occasionally to add some drama and interest within this kitchen layout.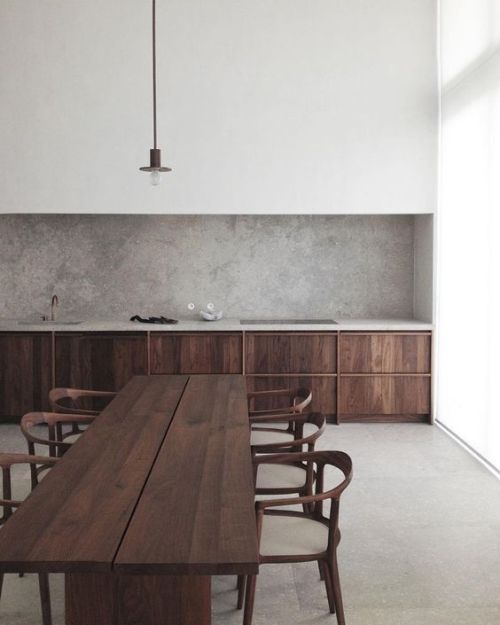 Photo from instagram
This arrangement makes your cooking place looks more expensive. Remember to apply special wall paints that creates the concrete feel for this idea.
Photo from home bunch
The clean white glossy kitchen cabinets draws your attention to the grey beautiful textured wall.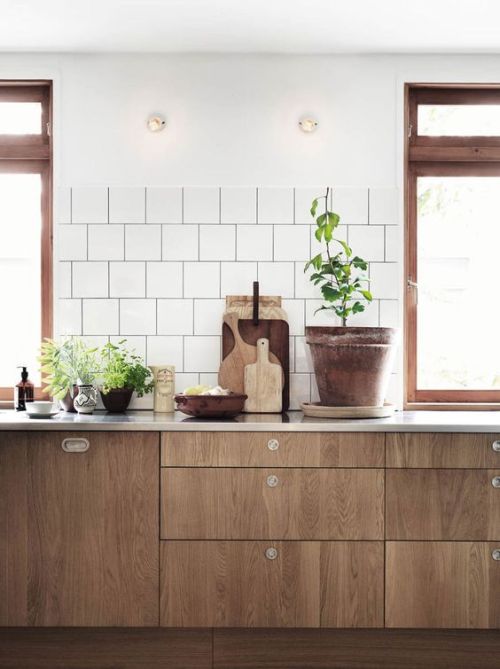 Photo from oracle fox
This minimalist kitchen has a bit of Scandinavian design in it. This is another gorgeous form that mixes plants to add some vitality.
Photo from the life creative
Before you decide to use this arrangement and idea, pay attention to the blue-green tiles. The balance of white and brown of this kitchen is perfect.
Photo from welke.nl by IK78
Instead of hanging expensive 2-door wall shelves on top, consider painting the wall dark grey colour and install open wall shelves. Different, interesting and affordable.
Photo from flickr by Jennifer Hagler
Let's get away from the tradition of using base cabinet with legs. Use hanging base cabinet instead!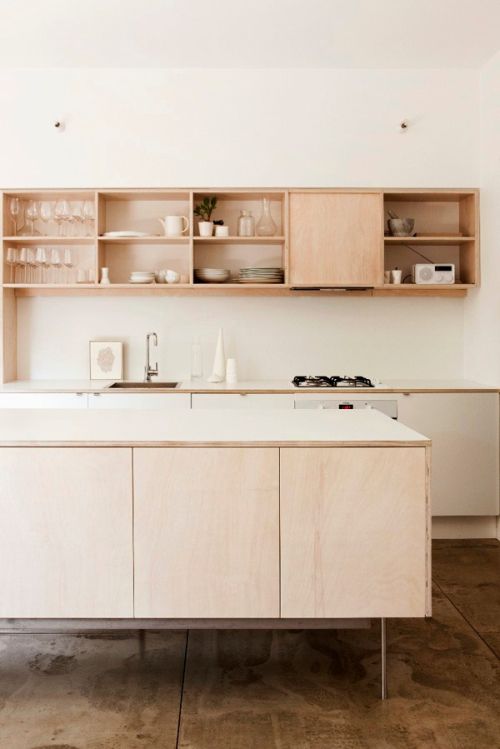 Photo from tribe studio
Stylish cooking area using affordable plywood and IKEA products.
Photo from style me pretty living
Many people loves grey. If you are one of them and would like to mix some classic into your modern kitchen, consider this arrangement. Without those hanging closed wall shelves, you will be able to save some budget. But don't forget to use bins and time to organise those open wall shelves.
Photo from remodelista
Photo from Made by Cohen
Photo from instagram by frukleppa
Photo from my scandinavian home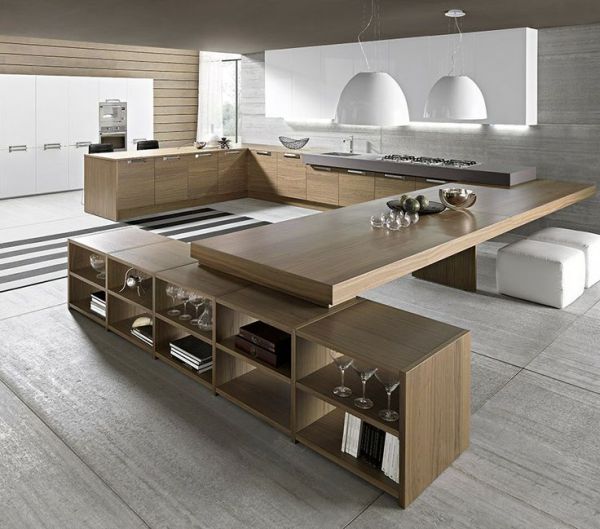 Photo from homedit
Have some extra cash? Why not spend it on a really impressive minimalist kitchen design?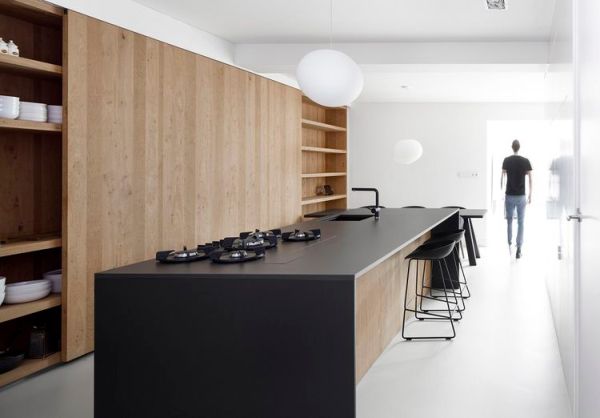 Photo from dwell 
Match these high wooden cabinet with a long island in your kitchen. Black stone countertop and warm oak are widely available in Malaysia. This arrangement for the kitchen looks expensive.